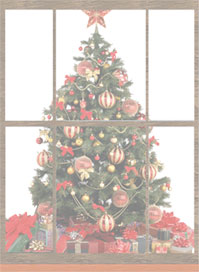 Christmas time really brings back special memories. It's my most favorite holiday and one of the reasons is all the wonderful times I had as a child. Those memories will be with me forever. Remembering the times my family came together to celebrate Christmas at my Granny's, eating delicious meals, and exchanging presents. There were lots of laughs and a feeling of love that I can't fully explain. I also remember the excitement of watching
A Charlie Brown Christmas
and eating popcorn. Staying up late to watch it was also a treat. My kids have a very strict bedtime of 7pm. Every night. Yes, I'm a meanie. But I've been a little more relaxed about it now that all the wonderful Christmas shows are on. The kids think I'm awesome.
Below a friend of mine, Amanda from
3lilapples
, tells about the Christmas moments she had that warm her heart.
Looking back on the memories of Christmas past, and the times shared with those I love. The most memorable past time of mine was to visit the local theater, not to see a movie, but to watch a performance. Making it a memorable event we would most often wear a green or red dress which was embellished with plenty of lace, and maybe an exceptionally large bow or two.
The first performance, most watched, and often made a holiday outing by my mother to whom we also attended with my aunt and cousins. The Nutcracker and the Mouse King by E.T.A Hoffmann, which tells a fanciful story of a girl and her fondness to one particular toy, a nutcracker. In reality the nutcracker is a cursed prince, who is wished to be ugly. The ballet, The Nutcracker, is an adaptation of this book where music, set decorations, props, and dancers take you to magical Land of Sweets. What kid would not enjoy this performance, as though it is a musical staged performance of the game Candy Land, minus the rainbow path and licorice lagoon? Plus, every girl wants to be a ballerina.
The second performance, also a stage performance, most often modified for film which is my primary source for viewing A Christmas Carol. Although I have seen this on film, I have also seen it with live actors on stage; I believe it to be more genuine and a memorable experience. The story of A Christmas Carol is one that many have heard of, even the Muppets, there are many versions of this story, but each tells the same story. One man's, Ebenezer Scrooge, journey through one night with many spirits, a process of reclaiming his own faith in the meaning of Christmas.
These two stories are the ones which get me into the Christmas spirit, both then and now, whether by reading them, or watching them either on stage or on screen. I encourage you to share these same stories with your children if you don't already, and if you can take them to see the story live on stage. Have a very Merry Christmas and a Happy Holiday season to you, and your family.
What were some of your Christmas traditions or special moments that you still remember fondly and try to pass along to your children?