After such positive feedback on yesterday's me post I decided I'd do it again. :D I do want to make everyone happy. Actually, that's a downfall of mine. I want everyone to be happy, all the time. I get that that's not possible. I mean I am the Queen of Moody! But no matter what my attitude is I want the other people around me to always be smiling. Weird, huh?
Well, today was like the first official day of
"Whoa! It's freakin' cold out there!"
hahaha I think the high was 49 degrees but the wind made it feel freezing. When I took Gracie to the bus stop it was 47, so it didn't get much warmer through the day. By the time she got home it was raining to top it off. I actually don't mind the cold weather. It just means I have a reason to stay in under a blanket and cuddle up with my baby and a book. :) This weekend the weather channel is calling for a mix of rain and snow. I do wish we had some firewood stored up, I would so have a fire going right now.
Pepperoni rolls for dinner. LOVE 'EM! I always eat way too many though ~ maybe why I don't fix them every week? I thought about making a cake...I have a yummy sounding butter pecan cake mix in the cupboard. But again I eat too many pepperoni rolls, so I'm waiting on the cake.
I was thinking of Christmas today. *sigh* It's going to be really tight this year. I'm trying to think of homemade items I can give as gifts. I don't know. I like the thought of homemade...but I never feel like I pull it off. I did find one cute craft ~
stained glass votive candle holders
. I made one and am waiting for it to dry to see what I think of it. It's got possibility. :) If anybody has ideas, please let me know. I much appreciate it!
I'm thinking I might get into some sewing tomorrow. I am going to make Matthew a little pair of comfy pants to match the pair I made his daddy. They are fleece with a Navy print. Robby picked it out for the battleships. :) Such a little boy at heart. Here's a pic of my two favorite boys.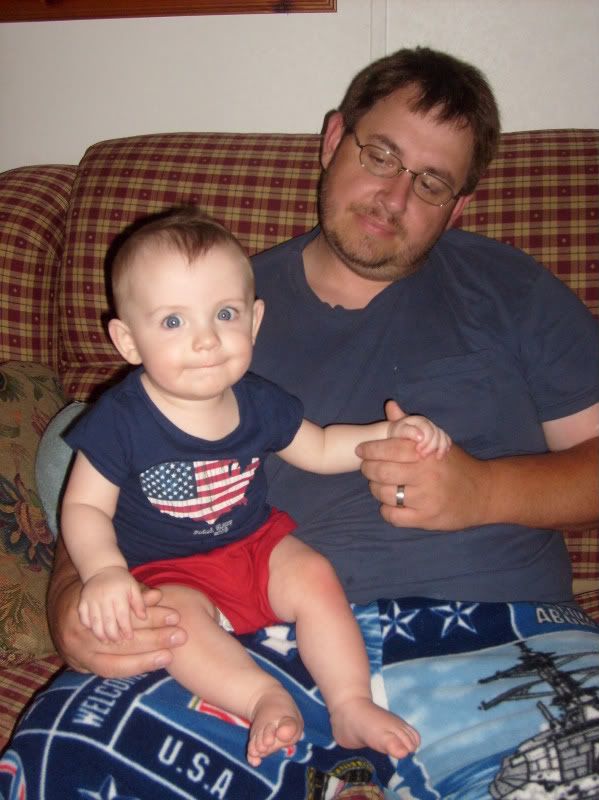 Robby has on the pants I made for him. Matthew will look cute in a matching pair I think.
Mmm-kaay. I think that's about it for now. ;) Hope all is well with everyone!
Hugs & Love!! ♥