I've been slacking! My blog was feeling soooo neglected, but I took care of that tonight. 7 posts in under 3 hours! I hadn't done any of the memes for the month of December. My time has been filled with Christmas preparations and the kiddies.
We put our tree up the day before Thanksgiving. We knew we'd be gone all day and then that Friday a WVU game was on - BTW they kicked USF's butt. It was wonderful but also sad because that was the last home game quarterback Pat White would play. He has been an excellent player and I can't wait to see how he does in the NFL draft. Until then at least I'll get to watch him the 27th playing a bowl game. Yay!
Here's a pic of the tree...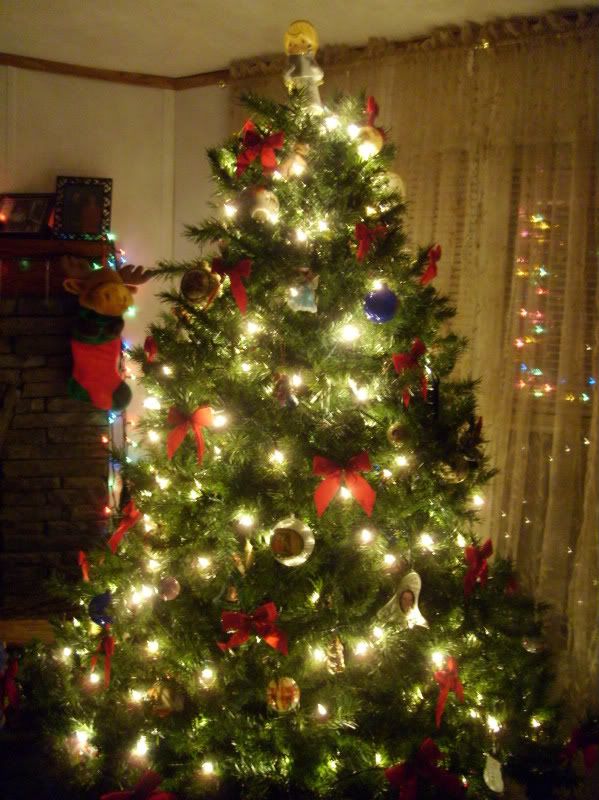 I still have so much wrapping to do. I told Robby I guessed the best time to do it would be at 2 or 3 in the morning. LOL Maybe I'll do that after blogging. Nah, it's already way past my bedtime.
I've been watching holiday movies like crazy. I love that this time of year. So many good family shows on. ABC Family and Hallmark are the best! A couple that come to mind are An Old Fashioned Thanksgiving, Moonlight & Mistletoe and The Christmas Visitor. Absolutely Great!