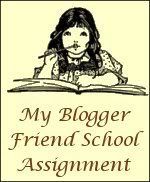 Memory Verse: 1 Corinthians 10:13 No temptation has seized you except what is common to man. And God is faithful; he will not let you be tempted beyond what you can bear. But when you are tempted, he will also provide a way out so that you can stand up under it.
Assignment: Tell us about something that you can't get enough of and what scripture(s) in the Bible you cannot tear yourself away from.
Ok, now this is the second BFS dealing with food. Ya'll are really getting to me! LOL Good food is such a weakness! :o)
I go thru little spurts of wanting certain foods. I'm a really picky eater and there are just times that even if I like the food I just will not want to eat it. Drives my mom crazy, I tell ya! We will go to visit and she'll say "I made spaghetti" and I'll be like "Oh" and she says "But you like spaghetti!" Sorry Mommy! So, anyways, back to my point - I'm going to list a few of my latest cravings of the moment.
cheese crackers
macaroni & tomato salad
grilled cheese sandwiches
As for the Bible scripture that I can't get enough of I would have to say it's the
book of Revelation
.