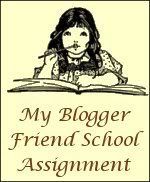 Memory Verse: Matthew 14:19…Taking the five loaves and the two fish and looking up to heaven, he gave thanks and broke the loaves.
Intro: Finger Lickin' Good - You can read about Christ feeding the 5,000 in many places in the Bible (Matthew14:19;15:36; Luke 5:6;9:3-17). I am a fairly new Christian and one of the many things I love about reading the accounts of Jesus' miracles, is that there was not a big drum roll, fireworks, a thousand dollar suit or an agent building up some big preview of what was about to happen. Jesus would calmly say things such as "have faith", "believe", "have them sit and pass out these loaves of bread", and then the miracles began.
Assignment: Although I am not able to produce miracles, it sometimes feels like I need to when it comes to meal time. There are times when money is tight, groceries are few and I have to feed my family. During the holiday season, you might have so much going on that you need to make a meal quickly with as few ingredients as possible. This week post your favorite recipes that require six (6) ingredients or less. Can't wait to see what you come up with!
Now this is something I know! LOL There are times that I need to find something quick and easy (and of course CHEAP!)and I always pick the same things. I can't really give you a recipe because it's that simple. :)
Grilled Cheese sandwiches & Tomato Soup
Usually it's just American cheese on bread but I've added dijon mustard (or regular yellow) and an addition slice of white american cheese to give it a little kick. To "spice" up the can of Campbell's soup you can sprinkle mozarella cheese in the center. Can you tell I like cheese? :oP
Breakfast!
This is sooo easy cause you almost always have a loaf of bread in the house. Add eggs of your choice and a side of bacon or sausage and you're good to go. You can also make
sandwiches
(eggs, bacon, and tomato w/ mayo or plain eggs). Again with the bread you can mix up a quick mixture (eggs, milk, cinnamon, vanilla) to coat it and have
French Toast
.
Chicken Bacon Ranch Pasta Salad
For this all you need is about 1 lb of cooked chicken tenders (you can use breasts but the tenders are already cut :? whatever you prefer) and a box of Suddenly Salad Bacon Ranch flavored pasta and 1 cup mayo. Super easy and tasty meal that will last a day or two. Now this is good even without the chicken and I can eat it as a meal instead of just a side as some do.
Well, there are some of my fast fixes. Now I'm getting hungry. :)