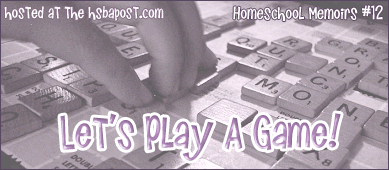 THEME
This week I want to invite you to share what different games you use for learning in your homeschool. Outside games, board games, or card games, and what purpose or subject you use them for.
We love to play games! Gracie is constantly wanting to play something. Her latest obsession is checkers, which I am NOT good at, so Robby is teaching her that. I'm not sure what that game is teaching her, strategy maybe?
The others we play are:
Candyland
- colors and numbers/counting
Chutes & Ladders
- numbers/counting & patience (If you've played this, you know what I mean)
Scrabble
- letters and spelling
Memory
- memorization and matching
I Spy
- colors - We play this inside and outdoors so we are constantly finding new things. Never gets boring.
Card games
- Numbers/counting - Especially, poker. Yep, I said poker...she loves playing with a deck of cards and she is pretty good. Hmmm, maybe next card counting. Vegas here we come! LOL I am SO joking!
The most important thing I want her to learn while playing these games is how to lose gracefully. I've seen so many children get upset when they don't win. I want her to know it's ok, that you can't win every time. I really can't think of any other games at the moment. She's really big on puzzles right now also. We went to the Dollar Tree and bought six the other day. Big puzzles - 200 piece puzzles that she can do herself! I'm so proud of her!! She's such a smartie pants. ♥