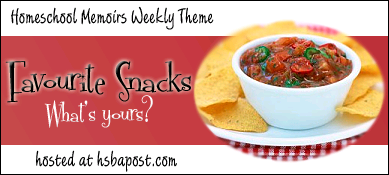 I love this assignment! I get to talk about food. *sighs* I'll be so hungry by the time I'm done...LOL My husband and I always laugh because when we dated I didn't eat alot (like a lot of women do)...but after we were married I couldn't continue to starve myself. :-D So he found out just what kind of an eater I can be. Picture a big man at a truck stop. Ummm, yea, when I want I can put it away. However, since I'm still trying lose a couple pounds of baby weight, plus what I had just put on before, I'm not eating as much. But, boy, do I enjoy it when I do!
These are a few of my favorite snackies...
muffins (apple cinnamon, triple berry)
fruit (strawberries, blackberries, Granny Smith apples)
cheese crackers (usually Cheezits BUT Disney Magic has baked shape crackers that are GOOD!)
yogurt
pretzels with ranch dressing
Colby cheese slices with crackers and green olives
plain popcorn
nachos & cheese
grape tomatoes, croutons, and sprinkled with cheddar cheese (ranch or french dressing)
and when all else fails....go back to the great original PB & J.