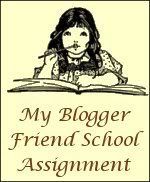 Memory Verse: Matthew 28: 20 - Teaching them to observe all things whatsoever I have commanded you: and lo, I am with you always, even to the end of the world. Amen.
Assignment: In the memory verse Jesus tells us that He will never leave us, not even at the end of the world. He assures us in this verse that He will be with us and that means through everything we go through in life. I thought it would be interesting to write about the things we would never leave home without. For some it might be baby needs, others it might be a gym bag and bottle of water, and for some it might be your Bible and a notepad or small journal, maybe even your son or daughters favorite blankie! I'd like for you to write about something that you would never leave home without.
I think I'm a bit OCD, when I leave the house I have to check, check, and double check just about everything. I make sure the thermostat is set, all appliances, lights, and fans are off, doors locked, etc., etc. *sigh* and while I'm doing that I have to lug around all my stuff. haha I have lots of stuff that I require. My big ol' purse filled with everything I really don't need. Umm, Gracie always has an activity bag and at least one stuffed animal - if I'm lucky. She tries to bring more but I talk her down most times. Then we've got the diaper bag. A drink for me, a drink for Gracie. AND if you count Matthew in his car seat (man, do I want a sling!) & Gracie, I have a lot to carry around. You would think that I would have muscles like Wonder Woman, but yet I don't.