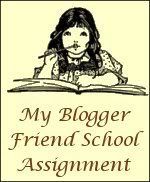 Memory Verse: Psalms 26:2 NIV
Test me, O LORD, and try me, examine my heart and my mind.
Assignment: This week I want you to do something for someone else. Do you have a neighbor that needs you? Do you know an elderly person or single mom that could use you? What about the homeless? Pack even one single sack lunch and give it to someone in need. Do you know someone in blogland that is struggling right now and could use a note from you about how much you care? Pray about this. Let God put on your heart the perfect thing for you to do for another. Now, here is the kicker…I DO NOT want you to post about what you do. Whatever you choose to do is between you and God. Our rewards are in heaven, not here on earth, Mathew 6:1. I want you to post about how doing this "act" made you feel. Was stepping out of your comfort zone in this area as hard as you thought it might be? Could you see the gratefulness in their eyes? Hear it in their voice? Tell it from their typing? Do you think you might make doing things like this a more regular part of your time? If this is an area that you are already active in, tell us how you feel this has impacted your life.
This assignment is so ironic, because I just made a decision to step out of my comofort zone. I come off in blogs and forums as a very open person, or at least I think I do. And really I'm very shy. I try to cover it...and if it's something that isn't necessary, I won't always participate. Even if I may want to. I don't like that that is how I am. But I've been this way basically all my life. So changing now is hard. However, I don't want my hangups to affect my children. I want them to know that it's a good thing to experience new things in life. I've always been so scared of change, and I know that I've missed out. Initially, when I made the decision to do what I am now committed to do, I was typing away agreeing...and in my head I'm thinking "What are you doing!??" Now that it's done I must follow thru because I don't want to let anyone down. I'm sure my act will be appreciated, and I hope that it will be beneficial. I would love to become more involved with others and I hope by allowing myself this act that many more will follow.