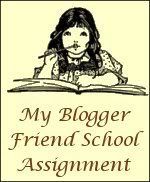 Memory Verse: Psalms 55:22 - Cast thy burden upon the Lord, and He shall sustain thee; He shall never suffer the righteous to be moved.
Assignment: This would be a good week to tell about your worst struggles with a lifestyle of homeschooling. Tell about something you've struggled with and how God's mercies gave us the strength to get past it. Also, share any curriculum/homeschool methods that have been a relief to you, i.e., a particular Teacher's Manual or Homeschooling method that's been easier for your family. Talk about how you felt when the burden was lifted and Oh, What a Relief it is!
Hmmm, well, as I've just started this journey I can't say much about curriculum or homeschool methods since I'm still testing it all. BUT I will admit my worst struggle has been myself. I've doubted my ability as to whether or not I could homeschool my daughter. I've prayed about it and given it to God. I have been blessed with "meeting" so many wonderful, helpful people through different websites and blogs that I am actually starting to think I might be able to do this. I'd like to take this chance and thank everyone who left encouraging comments on my last BFS post. I appreciated the time you took to leave me your bits of wisdom. Keep 'em coming!
Verse: Philippians 4:13 I can do all things through Christ which strengthens me.