Blogger Class Mates is now called
Homeschool Memoirs
.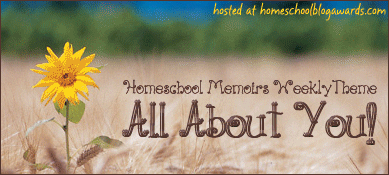 Ok, so I should have seen this one coming - a blog about me as the first assignment. First off, I hate these. I never know what to say about myself. Do I say too much, not enough? Anyways, I'll give it a try...
My name is Lesley. I'm Robby's loving wife and proud mommy to 5 year old Gracie and 3week old Matthew. We live in West Virginia, where we were both born and raised. The towns may have changed, but the state has stayed the same. It's definitely Almost Heaven. I'm curious by nature. I'm moody. I love with all my heart, but hurt me and I'll forgive you but never forget. My family means everything to me. I'm a country girl and will never be anything else. Barefoot and pregnant is ok with me. I hate socks anyways. I can be girly girl...but I can also watch
NASCAR
and
WVU football
and cheer with the best of 'em. I watch my soaps and am not embarrased to admit it. I love to read and will read just about anything. I like to blog and read others. I can sew a little bit, it's something I enjoy but don't do enough of.
Digital scrapbooking
is another hobby.
This will be our first year homeschooling. There are a lot of reasons I wanted to...basically, I want to be able to control what she learns and when. Also, I love being with my daughter. She is one of the best things to have ever happened to me. Robby and I have a bit of a difference of opinion on homeschooling. He wants her to start school next year. He was ok with me holding her out but just for this year...he's worried she will miss out on cetain things. I understand his fears, heck, I wonder if what I'm doing is right. But I pray a lot and feel like this is right for us right now. What the futue holds no one knows.
Ummm, I think that's enough for now...I write much more and you might get scared off and never visit my blog again. LOL :)