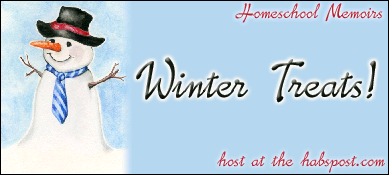 THEME

This week I want to invite you to share one of your favourite winter treats. A treat you look forward to making when the snow falls and include the recipe for it so others can try it out.
Usually when I think of this time of year's sweets I thik of my mom's Peanut Butter Balls or
Blossom
cookies. I don't make them because she always makes
hundreds
during the holidays. One thing I do enjoy is fudge - peanut butter and/or chocolate and it's even better when it's chocolate peanut butter fudge. :oD
Here is an extremely easy recipe for it.
Chocolate Peanut Butter Fudge
1 can condensed milk
1 package of Almond Bark (white or milk chocolate)
1 tbsp vanilla extract
2 1/2 cups peanut butter
Melt chocolate in microwave.
Mix: milk, melted chocolate, and vanilla in a pot
Bring to a boil and boil 5 minutes.
Remove from heat.
Add: peanut butter
Beat thoroughly and pour into buttered glass dish.
Enjoy!