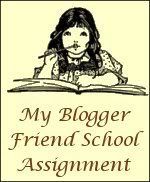 Memory Verse: Romans 10:17 - So then faith cometh by hearing and hearing by the word of God.
Assignment: Write about your favorite 'faith food'. Tell about the books of the Bible that you read that help to build your faith. Nurture the seeds of faith inside you. ex: Acorns become Oak trees.
It's so hard for me pick just one. I think there are so many that help me to build faith...but if I had to chose it would be the book of Genesis, Proverbs, and Psalms.
I've tried reading the Bible through and somehow just never seem to make it. My great-aunt Ruth, who is in her 90s and taught many years of bible school, told my mom that the best way to read and understand the Bible is to read the New Testament first and then the Old Testament. I believe I am going to try this and see if it works.
Proverbs 2:1 - 2:5
My son, if thou wilt receive my words, and hide my commandments with thee; So that thou incline thine ear unto wisdom, and apply thine heart to understanding; Yea, if thou criest after knowledge, and liftest up thy voice for understanding; If thou seekest her as silver, and searchest for her as for hid treasures; Then shalt thou understand the fear of the LORD, and find the knowledge of God.