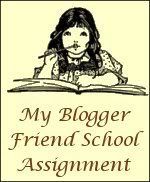 Memory Verse: Ephesians 4:19 KJV
Who being past feeling have given themselves over unto lasciviousness, to work all uncleanness with greediness.
Assignment: Take time this week to write about YOU and your feelings of trials and triumphs with homeschooling. Touch on when you first heard about the concept of home schooling and whether you tip-toed into the idea or just jumped in and never looked back. Share your schooling as a child and how you compare it to what your goals are for your children.
Going to public school, I HATED it. I was a young 5 years old (born July 1st) when I first started school and I had issues all the way thru high school with wanting to stay home. I had a good group of friends but I
always
felt out of place. I can count on my hand how many football games I went to and I never went to a school dance. I don't know if it was me just being too shy or if it was because I was never pushed to do those things. BUT in the end I turned out pretty darn good (if I say so myself). I never tried drugs or had casual relationships. I wasn't ever a wild child. Did I miss out on some things? Probably, but I'm ok with that.
In my family, I had a second cousin who homeschooled her children. All 10 of them! The oldest is my age - 29 and the youngest I believe is around 7 or 8. You lose track after kid #5. :) Anyways, they were always very polite and well-spoken, and VERY smart. As they got older a few decided to go to public school. Another second cousin (sister to the cousin I was just writing about) who has a child my age (born March '79) tried to get my mother to hold me back a year like she was planning on doing to her daughter. She kept saying how she knew that us girls would do better in school if given time to grow a little before starting Kindergarten. My mom chose to send me on to school, while Sarah was kept out a year. I can't say the choice either parent made was wrong because it was the right one at the moment.
I first started thinking about homeschooling Gracie when she was around 3 years old. I knew that I wanted her to get a good education, but I also kept thinking about how young she was going to be when she would start Kindergarten. Where her birthday falls on August 13th, school in this area starts around August 26 or 27 - she would still be a baby to me. I approached the subject to Robby very wearily. He had extremely happy school years and was one of the "popular" kids. So he hasn't always been on board with the idea. I finally got him to agree with holding her out a year and letting me see how things went. This was only after he had gone to a vocational school state competition last April and saw a homeschooled girl there. He came home so impressed by her. He said he watched how she was so poised and well-educated. And of course socialized! He said all he could think of was one day that could be Grace. But now I'm scared, because I have this one shot to really make an impression and hopefully get him to see where I'm coming from.
How else do I feel about my choices so far? Besides scared? Worried and anxious are a close second. Oh, what have I gotten myself into?? Can I really do this? This is what goes through my head on a daily basis. I wonder if I have chosen the right path for her. All I want is for Gracie to have the best in life. Whatever that may be. I really don't want to screw this up. At times I feel really good about it. For instance, school started last Tuesday. I'm a member of a local moms group and a friend's son just started Kindergarten. This is a portion of what she had to say about his first day:
"And, she also said "Kindergarten isn't what kindergarten used to be - eating cookies, playing games and having nap time. MY kindergarten class will be at the Grade 2 level before the end of the year." Poor, poor Jonathan...And she said "homework EVERY NIGHT beginning at 15 minutes worth then working it's way up to 30 minutes EVERY NIGHT!"
Ok, so in 180 days of schooling we are suppose to jump from K to 2nd Grade? I'm all for learning but isn't that a bit extreme? AND homework after already being in school for 8 hours? Geez, no pressure on these kids, huh? These children are on an average only 5 1/2 years old. Stop pushing them to grow up so fast! I don't have a lot of support about my decision. I feel as if I'm being judged, even by strangers. When they ask Gracie if she's going to school she says "no, I do it at home" and they look confused and after I explain they act like I'm depriving her. I see it as allowing her more freedom to be herself. My family has tried to understand, I think. :) I really wanted my mom's approval. And I finally mentioned it to her about how I felt she didn't support me. She said she doesn't know how she feels about it yet. But that I had to live with my decision just like she had with hers.
So that's what I'm doing. Each day I continue to try to teach Gracie and when she learns something new and I watch her eyes light up, it is all worth it. I will keep praying that I am doing what is best and that this is what God has in store for my children and family.
Some pics....
Gracie loves arts & crafts. I think this looks amazingly like the chair on Blue's Clues.
Playing with counting bears.
Planting flowers...which sadly did not grow. :(